Happy 2017!
A new trend I am seeing is fewer upper cabinets. It is either a function a client who wants as many windows as possible, doesn't want to reach or stand on tippy toes to get items or style choice that upper cabinets can clutter a sleek kitchen. I have a wall of shallow one foot deep cabinets in my kitchen as I don't like working at a counter under an upper cabinet.  Sheer preference for me!  Every once and awhile, I notice my husband eyeing the space next to the cook top as prime upper cabinet space for a coffee center!  We don't need additional cabinets but need to sift through our collection of random plastic items. Who knew we had three large fun plastic cups from the all soda drink you can drink day at Cedar Point (?!) taking prime space until they fell out while tracking down Christmas salt shakers!!
Embedded here is a great article from HOUZZ showing how to live without the uppers! The chart below is very helpful when designing a kitchen. Notice all bets are off about amount of everyday dishes and silverware.  No notes either about the Costco bulk items and their need for closet or pantry!! A good place to start thinking about everything needed in a kitchen and  where it is!!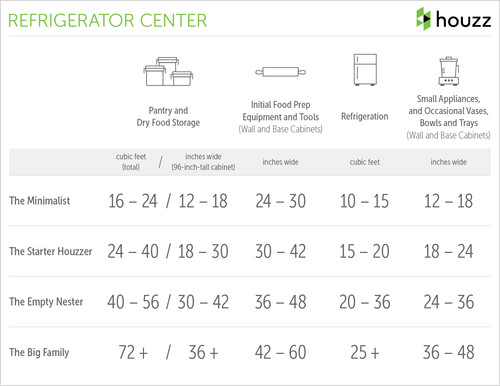 Sometimes clients are skiddish about having cups in drawers for fear of breakage. This picture from Houzz illustrates a drawer  layout.
I often wonder why glass storage drawers aren't set up as dishwasher racks  to prevent glass from falling over! Maybe there is non slick drawer base on these!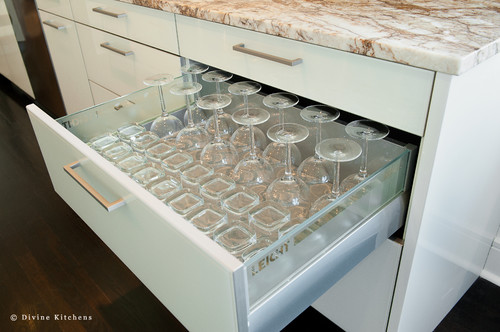 As drawers become more popular here is a microwave drawer. Looks like a warming drawer,. saves counter and wall space. It is more expensive especially  for those who don't microwave often! Works well in the no upper kitchen!